As a child of the 80s and 90s, music videos were a huge part of my pop culture experience and the one thing that always stuck out at me were when these videos used animation. It was often experimental and boundary pushing but for my young mind it was worlds colliding.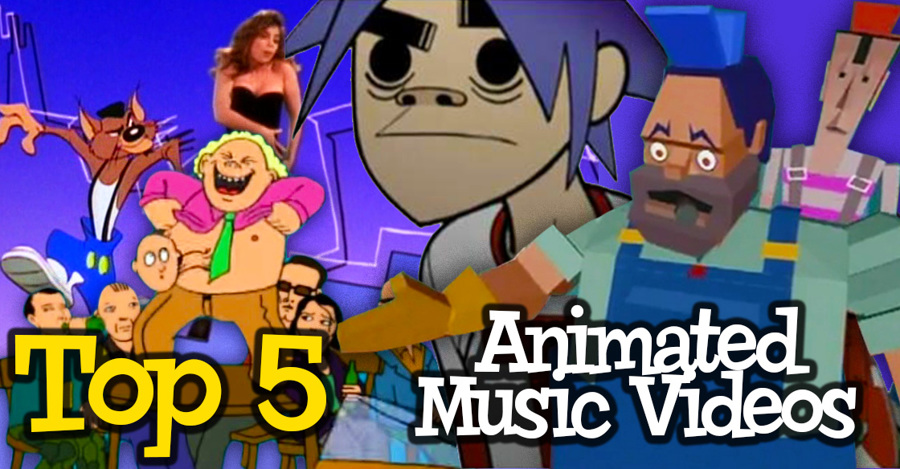 You can listen to this blog post as a podcast!
And you can now listen to us on SoundCloud
This segment was used in episode #138 of the RubberOnion Animation Podcast (click to listen to the entire episode)! To the list! Starting with...  
"Opposites Attract" by Paula Abdul (1989)
Forever Your Girl, #1 albumfour #1 singles 7 times Platinum
Before being on shows like "American Idol," "The X-Factor," and "So You Think You Can Dance," Paula Abdul was a pop star. She started off strong with her debut album which was a on Billboard, had and eventually went in the U.S. alone. The music video for one of those #1 singles is "Opposites Attract" and won a Grammy for "Best Short Form Music Video"...
MC Skat Kat
Romany Malco
Derrick 'Delite' Stevens
Anchors Aweigh
Tom and Jerry
... it also features a dancing cat. The music video features the cartoon character , voiced by The Wild Pair (Bruce DeShazer and Marvin Gunn) and a rap segment by  and even another rap by  for the "Street mix" (no, I'm not kidding). There's a Gene Kelly film called , where Kelly dances with Jerry (meaning, from ... apparently this was the inspiration for MC Skat Kat. 
The animation was done by members who worked at Disney outside of work hours and the sequences were directed by Chris Bailey (the upcoming Blazing Samurai). Believe it or not, MC Skat Kat would live on in The Adventures of MC Skat Kat and the Stray Mob. It wasn't the first time that an animated character had been created for the purpose of being a musical performer but it's one of the weirdest.  
"Money for Nothing" by Dire Straits (1985)
It's widely accepted as the first depiction of CGI humans characters in pop culture history. Amazingly, lead guitarist Mark Knopfler was unimpressed with the concept and originally refused to make it. According to legend it was girlfriend who finally convinced him to follow-through with the project. After initially turning down the idea of a music video he was being pitched again and his girlfriend at the time, who was in the room, said "He's absolutely right. There aren't enough interesting videos on MTV, and that sounds like a brilliant idea." The animation itself was created using a Bosch FGS-4000 and Quantel Paintbox system by Ian Pearson and Gavin Blair. Those two animators then founded a studio called Mainframe Entertainment... today it's called Rainmaker Entertainment, best known for their TV-series ReBoot.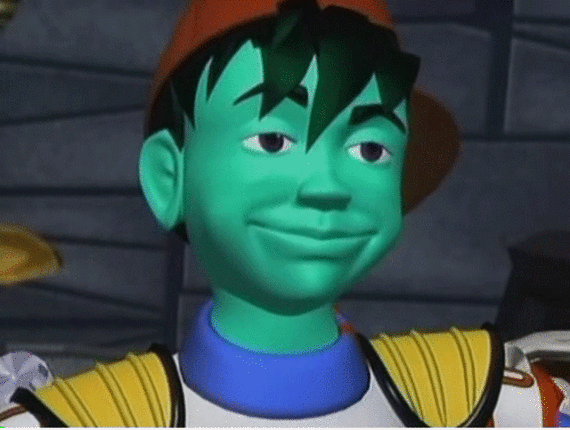 Dire Straits was also shown on stage with bright neon-colored rotoscoping over parts of the footage just to make absolutely sure that nobody was confused about what decade this was. The music video won "Video of the Year" at the third annual MTV Video Music Awards in 1986... it was just that good. But I think its highest honor was that both the song and video were parodied in "Weird Al" Yankovic's film UHF (1989).
Incidentally, though Mark Knopfler initially wanted nothing to do with his own music video, apparently one "stipulation" given to "Weird Al" Yankovic to make the song was that Mark got to play his guitar line on the track himself (and fellow Dire Straits member Guy Fletcher performed keyboards as well). So either he came around to the idea, or "Weird Al" is insanely charming... I'm going with the latter  
"Clint Eastwood" by Gorillaz
This easily could've been my number one pick, but I'll get to that in a bit. If you're unaware, Gorillaz are an English virtual band created in 1998 by Damon Albarn (of the band Blur) and Jamie Hewlett (of the comic Tank Girl). It's arguably one of the most interesting musical and visual experiments in the 2000s. Being made up of entirely animated characters (2D, Russel Hobbs, Murdoc Niccals, and Noodle), it's not the first attempt at a virtual band but definitely the most successful. Albarn and Hewlett decided to create Gorillaz when they were watching MTV. Hewlett said, "If you watch MTV for too long, it's a bit like hell – there's nothing of substance there. So we got this idea for a cartoon band, something that would be a comment on that." "Clint Eastwood" was Gorillaz first single and their first music video. The song itself is an interesting mix of styles and hasn't been easily defined in terms of genre (some attempts include trip hop, alternative hip hop, rap rock, dub, and indie dance). The video (co-directed by Jamie Hewlett himself and animation director Pete Candeland) has a ton of visual and cultural references in the video you might not catch on first viewing like:
Starting with a Dawn of the Dead quote
The song starts with a yell from a villain (Tuco) in "The Good, the Bad, and the Ugly" which starred Clint Eastwood
2-D is seen wearing a T-Virus shirt to reference Resident Evil
One of the zombie gorilla hands grabs Murdoc's crotch and pulls him to the ground referencing Peter Jackson's film Braindead.
The zombie gorillas do a version of the dance sequence in Michael Jackson's "Thriller" music video
"We worked with Jamie Hewlett more than 10 years ago on a commercial job for Virgin Cola. When Jamie came back to us a few years later to talk about an idea for an animated band that he was creating with a friend, we were intrigued to hear more. The subsequent eight videos from two albums - directed by Pete Candeland and Hewlett - remain something we are very proud of. In each of the videos Candeland and Hewlett have tried new techniques: in Clint Eastwood the animation is exclusively 2D; the characters are combined with live action in Dirty Harry (2005); and CG and background matte paintings feature heavily in El Maana (2006)."
As for why it's called "Clint Eastwood," the info is all over the place. In one account, it's supposed to be based on "The Good, the Bad, and the Ugly" (the line "sunshine in a bag" comes directly from that movie - although in the movie it's gold and in the song it's probably weed... probably). In another Damon Albarn thought the melodica he played sounded a lot like the score to the Clint Eastwood's movie "A Fistful of Dollars." Another account comes from a Reddit AMA with Albarn where he says he was inspired by a Jamaican Reggae artist with the same name: "We were recording in Jamaica and listening to a lot of dancehall music and we imagined a cool moniker to have would be Clint Eastwood. Also I'm a great fan of the actor and of Sergio Leone and Ennio Morricone." So... who knows?
The music video was nominated for three MTV Video Music Awards, so they made an animated acceptance speech of the cartoon band members. They spent tens of thousands of dollars on that speech and never got to use it... they lost in all three categories. Someone must've gotten wind of the fact that the band's very existence was to make fun of MTV. The music video actually won an award at Rushes Soho Short Film Festival Awards in 2001, beating an entry by Blur... weird little factoid. Apparently there were ideas batted around for a Gorillaz film, but Hewlett said: "We lost all interest in doing it as soon as we started meeting with studios and talking to these Hollywood executive types, we just weren't on the same page. We said, fuck it, we'll sit on the idea until we can do it ourselves, and maybe even raise the money ourselves." 15 years later, no film... but we have some of the most interesting music and companion animated videos and shorts that the music scene has ever had.  
"Radiohead" by Paranoid Android
There was a time when you could really only hear this song via the music video on MTV... it was too long and esoteric for the radio. The video, for some reason, was just that perfect blend of interesting and weird that it was a hot ticket on MTV and got played often. It was animated by Swedish artist Magnus Carlsson (creator of a cartoon called Robin). He has also made the stop-motion animated feature film Desmond & the Swamp Barbarian Trap (2006). Apparently he came up with the idea for it after locking himself in his office for 12 hours, staring out the window, and listening to the song on repeat. As a matter of fact, Carlsson didn't have the lyrics at the time so the concept for the video was based entirely on the song's musical arrangement. According to Radiohead frontman Thom Yorke, the band "deliberately didn't send Magnus the lyrics" because they "didn't want [the video] to be too literal."
It worked.
It features Robin and his friend Benjamin venturing into the world, running into miserable EU representatives, bar toughs, a prostitute, leathermen, a drug addict, deranged businessmen, mermaids, and an angel who plays table tennis with Robin. The version most often shown was edited to remove the mermaids' bare breasts. Colin Greenwood, bassist for Radiohead, said, "we would've understood if they had a problem with some guy chopping his arms and legs off, but I mean, a woman's breasts! And mermaids as well!" My favorite part of this whole story is that MTV Europe played the video uncut for two weeks because the channel's official censor was ill and unable to work. If you have 6.5min to spare, you need to watch this video.  
"Three Little Pigs" by Green Jellÿ
This is my list... and as such it's going to be colored by my experiences. When I was barely double-digits old, I saw a music video on MTV which consisted of some form of metal music, a comedic retelling of the Three Little Pigs, and animated in clay. Those three things combined into a zone my little brain just could not define. Green Jellÿ (pronounced Jello) is an American comedy rock band formed in 1982. Ten years later the song "Three Little Pigs" was released as a music video single only with the idea that they were "world's first video-only band" - an idea that was sold to Zoo Entertainment in order to get the financing to produce the album Cereal Killer. The thing is... it was a tiny lie. The whole "video-only band" thing was figured out as the album progressed but that pressure produced a video that my little brain saw for the first time and thought "you can do that?!" That particular kind of reaction is rare and I think is the highest form of artistic flattery. Bill Manspeaker (from Kenmore in way Western New York) basically is the band with many musicians joining and leaving through the years. Here's a short list of former members and what they do now:
Joe Cannizzaro (Dunderhead) became a television/video producer and was a videographer for DreamWorks Animation SKG.
Gary Helsinger (Hotsy Menshot) is now director of Special Markets at Universal Music Publishing.
Danny Carey is now the drummer for the multi-platinum progressive rock band Tool.
Kim O'Donnell (Sadistica) is now a Hollywood visual effects artist, having worked for Disney, and on such films as Con Air, Armageddon, X-Men 2, Spider-Man 2, Mr. & Mrs. Smith, and Flight of the Phoenix, among others.
Marc Levinthal (Pippi Rockstocking) went on to work in film scoring and other literary and musical projects.
Maynard James Keenan (Billy Bob) is now the lead singer for the bands Tool, A Perfect Circle, and Puscifer.
And what's more... Green Jellÿ created the soundtrack for the Spider-Man and Venom: Maximum Carnage game ("The Mob Rules" by Black Sabbath is also in the game during a boss battle but I'm not sure if it was arranged by Green Jellÿ or not)! The animation itself was done by Fred Stuhr who also directed the "Sober" music video for Tool. Even watching it now, the lipsync during the "not by the hair" moment is really detailed.  
What would YOUR top 5 animated music videos be?
TL;DR While other animated music videos were high-profile and high-budget, Green Jellÿ's "Three Little Pigs" was an Indie outing which showed something that hadn't been done before and did so with comedy and metal.